Four posts in one day. The kid's napping, what can I say. But I've been looking at bathrooms online and though these aren't necessarily feasible for our space or budget, I just thought I'd share some things that I think are gorgeous.
I adore the tiling in this bathroom. From a budget standpoint, it's a big fat no, on top of from the hard work and cleaning aspects. I mean, who scrubs all that? I wouldn't. It's also probably a little dark for the teeny space that we have. However I think just doing the back & side wall of the shower in that could be pretty awesome. I would have to price it out though.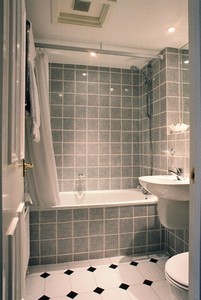 I loathe the floor here but this is the colour tile I was thinking before I saw the dark grey. It would still be a possibility and this tile looks like the kind that isn't designer and a bajillion dollars per square foot. We won't have a tub, though, because the room is so teeny, it'll just be a glass shower enclosure. Although I do kind of like the wall mount sink shown here, it looks pretty cool. Maybe I'll have to investigate those a little more as well.